After having finally read all the books, watched the films and finding out that, actually, I'm kind of into the whole Harry Potter thing really (and would obviously be destined for Ravenclaw), I decided to throw a bit of money at a Mystery Box I happened to see on a Facebook ad (I know, ew).
loudshop.com offer a whole host of geeky merchandise from brands including Rick and Morty, a plethora of Marvel & DC Superheroes and, of course, Harry Potter, as well as band merch for various alternative artists. As part and parcel of being any kind of merchandise business nowadays, they also offer a load of mystery boxes, promising a bunch of themed products at a reduced price.
For Harry Potter fans they offer a house-themed box for each Hogwarts House. Each box includes 3 t-shirts, a mug, a keyring and 'other accessories all themed around your house', all for £29.75 (+P&P) – just choose a size for the t-shirts and check out. The boxes are limited edition and pre-ordered, therefore once ordered you have to wait until the predetermined date is reached before your box is shipped. This is all well-communicated on the site, so there were no nasty surprises there. That being said, I'd almost forgotten that I'd ordered it, so getting an email that it was being shipped was a nice little pick-me-up for what had otherwise been a relatively rubbish few weeks.
When the box arrived I was a little disappointed that it appeared to have been a bit smashed up during the delivery process, and the jiffy bag it was shipped in was stuck to one end of the box, which meant taking it out ripped the side a little. I'm willing to give loudshop the benefit of the doubt here for the smashing and assume that this was the courier who was at fault and not them. The ripping, however, that's on whoever packed the products.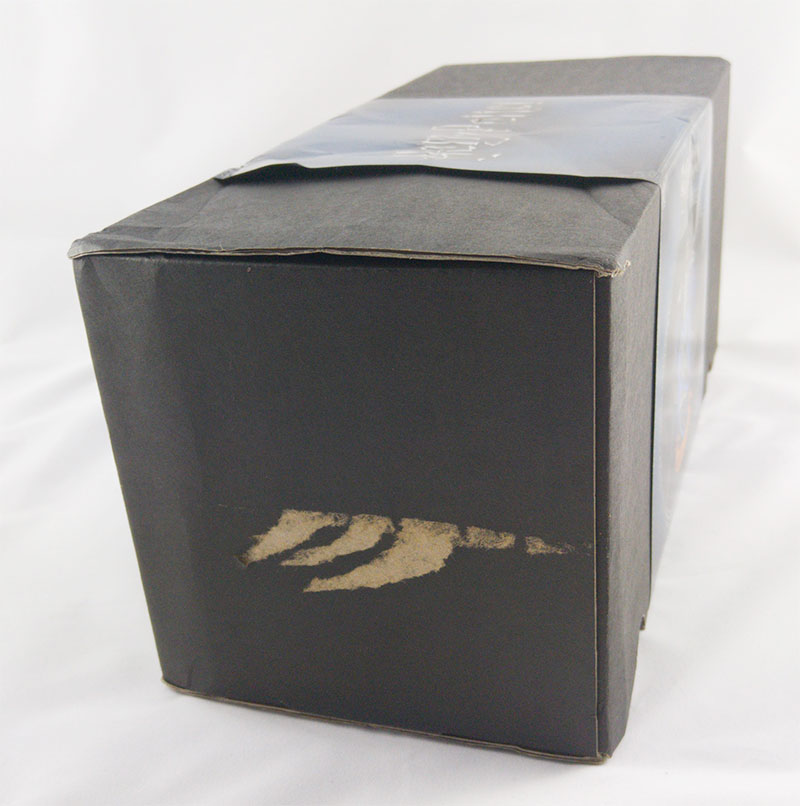 After taking a quick picture, I dived in to find out what goodies I'd received for my money.
Ravenclaw Mug
This is an official merchandise mug and is pretty nice. I was glad to see that it hadn't got smashed with the packaging as it was at that end of the box, however, the bubble wrap around it seemed to have done it's job. It's apparently dishwasher and microwave safe, although I've yet to test that theory. The design on the mug is the Ravenclaw crest on one side, and a quote from the Sorting Hat on the other – as mentioned, it's apparently official merchandise, however, the design looks a little wonky and the words a bit blurry :-/
Ravenclaw Keyring
Again, as advertised, an official Ravenclaw crest keyring, which is nice quality and as I expected it to be.
Harry Potter Badges
A set of 6 Harry Potter themed 'button badges'. This is what I would officially term 'tat' and would never buy normally. I'm all for more hefty pin badges, but these look like they could have been made on a home badge maker by a tween out of magazine cut-outs.
Vinyl Stickers
A set of 5 harry Potter themed stickers which are fine. Again, not something I'd usually spend money on and definitely in the 'tat' category, but some people are into that sort of thing, and they'll probably end up on my laptop lid.
Three T-shirts
The first is a Ravenclaw specific t-shirt. A nice quality blue t-shirt with a small Ravenclaw crest on the front and a full-size crest covering the back. happy with this one.
The second is a more generic Hogwarts shirt. A grey shirt with Hogwarts crest and motto. Good quality t-shirt and nice print.
The third shirt is a bit of an odd one. A white Triwizard Tournament shirt, which in theory is fine (aside from white not being a colour I ever wear, which is totally personal preference) however, it's Beauxbatons specific. This feels like end of line stock they wanted to get rid of, and indeed, doesn't appear on their site on its own. It was also the wrong size. As of this post I have emailed them to let them know and will hopefully receive a replacement, but I'll update as and when I have more info.
Overall, the quality of the t-shirts and the keyring is good but the rest of the merch lets it down. It feels like the other 'house' boxes probably ended up with the same badges, stickers and shirts aside from the one house-specific one, and it seems a little misleading to say '…other accessories all themed around your house.' when actually the only house-themed items were the t-shirt, mug and keyring which were the ones already listed as being house-themed.
I'd say that if you wanted a Harry Potter themed box with a few house-specific items this might be the box for you; however, it's misleading to advertise it as a Ravenclaw box. If a house-specific box is what you're after, I'd probably try one of the multitude of others that exist around the internet!
You can find the Ravenclaw (T-shirts & Accessories) Mystery Box here.
Disclaimer: I bought this box with my own money. I was not asked to review this by the company. All thoughts and opinions are my own.