For those who don't know, Rooster Teeth is an american production company founded in 2003 and launched with a web series named Red vs. Blue – a parady of first person shooter games such as Halo, focusing on the lives of two teams of soldiers supposedly at war. Since the inital success of Red vs. Blue, Rooster Teeth has grown massivly both in size of the team and scale of their productions, including the popular anime by the late Monty Oum, RWBY and Lazer Team, Rooster Teeth's first feature film.
As well as animated and live action productions, Rooster Teeth has sunk their teeth into video game development with Rooster Teeth vs. Zombiens and RWBY: Grimm Ecplise, in addition to making podcasts and hosting events such as RTX (run in both Austin, Texas and London, UK) – in short, they're a pretty busy bunch.
Being a massive fan of many of their productions (RWBY and Day 5 most avidly) and with my husband having followed Red vs. Blue since the start, we decided to buy into their subscription service – First. The service boasts ad-free videos, exclusive and advance content, live broadcasts and a discount in the Rooster Teeth store, all starting from $4.99 per month. However, if you plump for the higher subscription tier ($34.99 per month), you also receive a monthly loot box full of RT related goodies of a $60+ value – and that's exactly what we did. Our first First (heh) box turned up last week and here's what we got…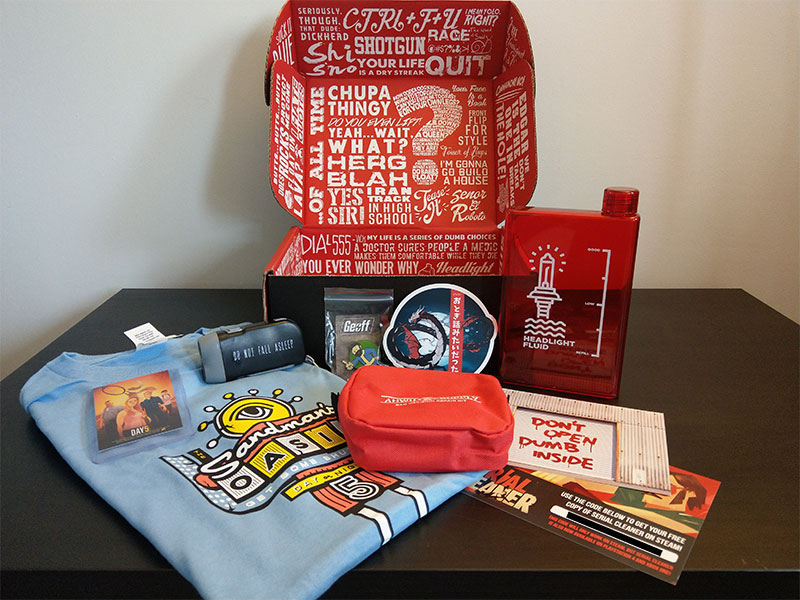 Explanation Postcard
Due to the realease of season 2 of Day 5 this box is very much survivalist themed. This postcard explains that the contents of the box will all help you survive the apocalypse ('sleep or otherwise') in some way. It then goes on to detail each item with redacted strike-throughs and is a nice touch to make sure you have everything you should, and to set the theme for the items you're about to unpack.
Day 5 Limited Edition Colletable Card
Each Rooster Teeth box will include one collectable card from the Season 1 Rooster Teeth Gold Cards series, 20% of which are signed for their lucky random recipent (unfortunately ours was not). The card is packaged in its own protective wallet with artwork depicting the series on the front, and top-trumps style info on the reverse.
Day 5 Glow in the Dark T-shirt
The shirt references a main plot-point in series 2 of the show, and is excellent quality. As it's an American box, the sizing is fairly generous and the words Day 5 glow when the t-shirt is placed in the dark. We lucked out as this is definitely a shirt either of us would have bought separately which isn't always the case in many loot boxes.
Day 5 'Do Not Fall Asleep' Dynamo Torch
This is a really nice and unexpected addition to the box, and shows just how much thought really goes into the items developed around the shows they make. The torch is powered by a dynamo which means it doens't need new batteries or electricity to charge, just the flip out hand pump, and feels solid and well-made – like it could survive an apocalypse, perhaps! Defintely good for sneaking around unnoticed by everyone trying to kill you at least.
Bad Decisions Repair Kit (Achievement Hunter)
Possibly the most useful item for surviving post-apocalypse, this kit contains bandages and first aid tape, cotton wool buds, a mini sewing kit, tweezers, scissors and more. Perfect for mending broken skin and broken clothes. The bag is also really good quality and a nice size – this is actually something that will probably end up in my car for emergencies.
'Headlight Fluid' Container (Red vs. Blue)
Derived from a joke mentioned in Red vs. Blue akin to first day intern tasks such as 'sky hooks' and 'glass hammers', this 'Headlight Fluid' container is a really nice item, although I'm not sure it'll get used as neither of us really do cold drink bottles. Nevertheless, it got a laugh out of my husband as we unboxed it.
RWBY Grimm Sticker
Again, a nice quality item, this sticker features a Dragon Grimm from RWBY – I just wish I had enough room left on my laptop to stick it! I imagine it'll make it onto the side of my PC instead.
Fallout-style 'Vault Boy Geoff' Pin
This is a depiction of Rooster Teeth's Geoff Ramsey in the style of Fallout's famous Vault-Tec mascot, Vault Boy. The Fallout/apocalypse nod is on-theme, and the pin is nice enough.
Steam Code for 'Serial Cleaner' 
Serial Cleaner is a Curve Digital game in which you are a professional cleaner for the mob who is tasked with cleaning up murder scenes in order to not get caught! I haven't yet played the game but it retails at £11.99 on the Steam store so it seems like good value for the box, and it looks suitably ridiculous (I smell a possible review).
Over all, we were both really impressed with the volume and quality of the items contained in the box. Even the box itself is beautifully designed and made it all the way to the UK with no damage, so props there for the packaging. At $34.99 a month, it's not the cheapest subscription, however, with this PLUS the actual First service included in that price, I think it's great value for money.
You can watch a load of Rooster Teeth content on their YouTube channel including the first episode of Day 5 which I hugely recommend, and you can sign up for your own First subscription via the Rooster Teeth website.